How it all started
Barkin' For More was started to provide pets with healthy treats that taste better than the not so healthy stuff and with no preservatives or additives.
Treats weren't enough so we also added our hand made blankets, dceals, t-shirts and MORE. And we can customize everything!
Since I was old enough to say DOG, I've loved animals of all sorts. Any living creature I found would be welcomed into my home – chameleons, snails, frogs and lightning bugs. I even got my Mom to let me have a parakeet, a few hamsters, mice, snapping turtles, cats and dogs. I began volunteering at a few local animal shelters, the Humane Society, the SPCA. I did everything I could to be around animals.
When I was old enough to get a job, I worked at a few pet stores and veterinarian offices. I continued to volunteer at the SPCA and local shelters. I then decided to join the military. During that time, I still volunteered at local shelters, worked with the local vet and spent as much time as I could with animals.
I finished my time in the military and became a Veterinary Technician. For the next 10 years I worked as a vet technician as well as becoming director of an animal shelter and doing fundraisers that benefited the animals.


Along the way, I lost my best friend, Dixie, a Jack Russell/Chihuahua mix. Dixie was my friend and shadow for 16 years. The vet told me that Dixie's diet had a lot to do with some of her health problems and explained what a healthy diet for a dog should consist of. I started reading the labels of different treats and foods that were on the shelf for cats and dogs and realized some of the ingredients I couldn't even pronounce and a lot were simply fillers that provided no nutritional value. This gave me an idea!
I needed to figure out a way to make healthy treats for dogs that had nothing but natural, REAL food ingredients. I began to build my plan and now I want to share these healthy treats with you and your fur kids!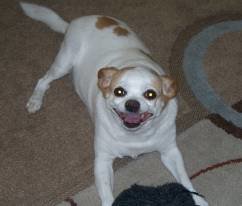 I have been involved with numerous animal rescue groups since 2005. I currently foster for a few different rescues and put together fundraisers to help them raise money. My husband and I have welcomed over 200 foster pups into our home. I've had a few litters of bottle babies (orphaned puppies that need to bottle fed until they are able to eat regular food, usually start eating at 4-5 weeks old), 3 litters of momma and puppies, quite a few under socialized pups, abused pups,aggressive pups....I'm proud to say they all were adopted and left our home as happy,healthy kiddos! We still foster and still love it!
Our animals are our family, our best friends and companions. We love our animals and want nothing but the best for them! Why give them food and treats with ingredients you can't pronounce that have fillers and things you wouldnt want eat? Our treats are made with real human food, no preservatives, no additives and no ingredients you can't pronounce. Once your fur kids try them they'll be Barkin' For More!
Of course we want to spoil our furry family and make them as comfortable as much as possible, so take a look at our blankets, treat jars, beds and other special things that will make you the best pet parent EVER! If you would like anything personalized just let us know in the note section when you place your order.
THANK YOU for checking us out!